I want to bring to light one of the current dilemmas many of us are facing in our kitchens. Although the list of equipment offerings and technologies continues to grow, we see more and more specialized kitchen equipment designed for a specific job. Whether we are baking, steaming, braising, boiling, poaching, roasting, grilling, staging, frying or searing, there is a piece of equipment on the market specifically designed for that specific job.
Most of our kitchens are littered with several pieces of single-purpose equipment. They are all pieces of a puzzle that fit together and (hopefully) lend themselves well to each other. Whether we are talking about convection ovens, steamers, grills, flat top griddles, immersion circulators, holding cabinets, combi ovens, low temp roasting ovens, etc… they all have their place and purpose. On the other hand, most of the real estate in our kitchens is at a premium, preventing us from utilizing them all properly. We are left with two answers to this challenge, either build massive kitchens capable of holding all this equipment or find versatility in the equipment we use.
When discussing versatility, most equipment can be placed into one of two categories, versatile equipment or single-purpose equipment. Let's dissect these two categories a bit further and analyze some of the equipment mentioned above.
Versatile Equipment:
Convection ovens are the go-to standard for versatility and have been widely used in kitchens around the world for years. These ovens have their place in most kitchens as they are one of the most versatile pieces of equipment on the market. From prep to finish, the convection oven can be used throughout the entire cooking process and is effective at both high and low temperatures, all within a small footprint. Other equipment that fit into this same category are grills, griddles, and combi ovens.
Single-Purpose:
Steamers are one of the main culprits in the single-purpose category. They are less versatile and capable of only one temp and one process – steaming. Not only is the equipment limited by its versatility, but often, finding a place in the kitchen for single-purpose equipment can be a hassle. While highly effective at performing the specific job the unit is designed for, single-purpose equipment can be a waste of space if it is not utilized around the clock. Other examples of single-use kitchen equipment include immersion circulators and low-temp roasting ovens.
What's this mean for you?
A lot goes into making any kind of kitchen equipment decision. Quality, reliability, capital cost, maintenance cost, operating cost, equipment life span, etc. Buyers have to weigh all these variables and find the best balance for their personal needs. However, one of the most impactful elements we are all looking for is versatility. We don't all have the luxury of a large kitchen. Normally, the larger the kitchen footprint, the smaller the customer seating footprint, which means less potential money to be made each day.
What if I told you there was a piece of equipment that addresses these pain points? One that is versatile to the point of being able to poach, steam, braise,roast, bake, stage, sous vide, confit, high yield roast, hold and perform many other processes all within a small footprint? One that is affordable, reliable, requires no hood, and is easy to use at all skill levels? A unit that can reduce ticket times, food costs, labor costs and maintenance costs. A piece that can be used for morning prep, the lunch rush, and staging for a busy dinner service, then continue to make you money overnight while you sleep? If this is the type of equipment you are looking for, then Winston CVap® oven is a game changer for your business. CVap equipment is hands-down one of the most versatile tool you can place in your kitchen. It is a piece of kitchen equipment that can save and make money at the same time, all inside a small footprint. Chances are the restaurant down the street turning 100 tables on a Tuesday night has already discovered it.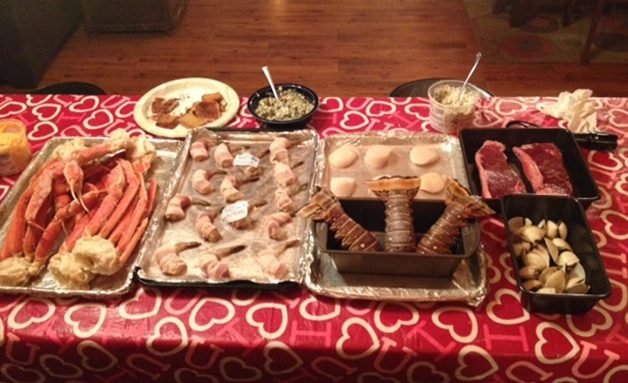 Growing up, we always had a Christmas Eve tradition, with seafood being the highlight. I grew up in South Florida near the water, with easy access to fresh seafood. It didn't matter if we caught or trapped it ourselves, or if we had to buy it at a seafood market, it was readily at our fingertips. Each year would be different, as we might have a traditional clam bake one year and fresh-caught yellowtails the next. I remember all of it like it was yesterday.
Now that I have a family of my own, I have carried on the tradition. Every year, I prepare a seafood feast to be happily consumed by our guests. I live in Michigan now, and fresh seafood is not so readily available. However, my friends at the Erie Fish Market (www.eriefishmarket.com) outside of Toledo, Ohio have made the process of finding and getting seafood much easier. Thanks to the guys at Erie!
One of the perks of my job is having a CVap® CAC503 Cook & Hold Oven in my kitchen. Over the years, I've cooked different seafood items in CVap, but never the whole shooting match. For this blog post, I decided I was going to try and see just how much food I could cram into my little CAC503. My menu consisted of butter poached warm water lobster tail, jumbo snow crab legs, jumbo sea scallops, little neck clams, bacon wrapped stuffed shrimp, steamed oysters, corn on the cob, red skinned potatoes and a couple of strip steaks (for my weird wife who doesn't like seafood).
I set my CAC503 to a low temp steam cycle with 100% humidity (doneness at 145 & browning at 0). I prepped and loaded ALL the seafood in the oven while my guests were arriving. Our party was going great, and the eggnog was flowing, which caused the seafood to be in my CVap oven a bit longer than I had originally planned (by two hours!). However, when I removed the food, it was perfect!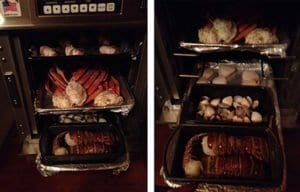 I asked some of my guests to sear the scallops, bacon wrapped shrimp, and steaks to finish them off. This was a fun way to get my foodie guests involved with the meal preparation. As they were searing these items, I placed some unsalted butter into the CVap to melt. I also cut and seasoned the potatoes and put them back in to stay hot with the crab legs, lobster tails, clams and oysters.
Once everything was on the table the only sounds were crab legs cracking and forks scraping the plates. The food was perfectly cooked. Lobster was a perfect texture, crab legs were easy to crack and melted in your mouth. The steamed clams and oysters were very plump and juicy. The texture of the scallops blew everyone away. The potatoes and corn even got high marks (I didn't even try them as there was seafood to eat). My experiment was a complete success! I will be doing this again next year but of course with a different menu. Any suggestions?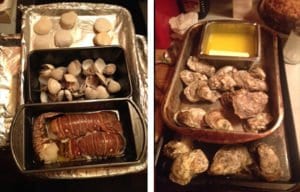 On a side note, I went overboard preparing for this dinner and we had a lot of leftovers. I decided to make a mixture of lobster, crab, clams, scallops, shrimp, a couple dashes of lemon juice, fresh dill and parsley. I picked up some flounder at Erie Fish Market, prepped the fish, and topped with the seafood mixture. I then topped it with Panko bread crumbs and Parmesan cheese. I broiled my seafood stuffed flounder until the top was brown and crispy. This was absolutely amazing!! It was great to eat two amazing seafood dinners back to back. Try it, I bet you'll like it.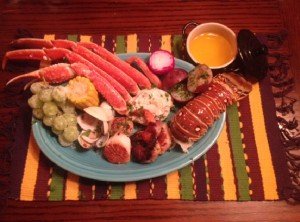 Not long ago I had a talented chef come to the Winston factory in Louisville to do some testing. He was preparing to open a new "traditional" style steakhouse in Chicago. Knowing how the competition was for that segment, he needed an ace up his sleeve. He had heard quite a bit about our CVap® technology, but wanted to see it for himself. So he came to town with a very specific goal: to test a CVap Cook & Hold Oven side-by-side against an immersion circulator. He also had some very specific food items he wanted to test, so he came bearing gifts in the form of beef, pork, and chicken. I knew I had two days of caveman-style protein consumption to look forward to!
I already had some experience with side-by-side testing with the circulator, so I thought I knew what to expect. I was wrong. This chef was very detail-oriented and wanted to capture all the results with precise notes and pictures. So that's how we approached the project, and I was very surprised by what we found. I already knew about the procedural efficiency and cost savings made possible by choosing CVap over the circulator, but I was not prepared to discover just how much better it performed with regard to texture, flavor, and consistency. Time after time we were both surprised after tasting the finished food items.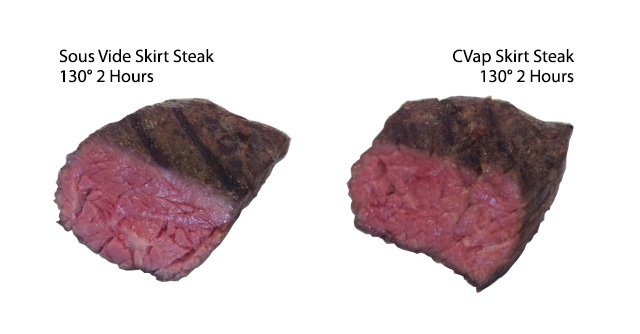 We tried three different methods for each item. We bagged and vacuum-sealed short ribs, mock tenders, beef filet, ribeye steaks, NY Strip steaks, skirt steaks, and half chickens. We also had one of each item for our bag-less CVap sous vide-style process. We then cooked and finished each product. We did one each bagged in the circulator, one each bagged in the CVap, and one each bag-less in the CVap. The results for each product weighed fairly heavily in favor of the bag-less CVap sous vide process in terms of flavor, texture, consistency, and moisture retention. Each protein was just more tender and easier to handle than the more complex traditional sous vide process.
Then there's also the question of capacity. We realized that he would need at least four circulators to do what we were doing in one half-sized CVap CAC509 Cook & Hold Oven, which negated the cost difference of the two options. So much so that the CVap worked out to be the less expensive option. Not to mention the continuous cost savings each year of not having to use the plastic products and the labor savings during prep time without the need for bagging the food items.
But don't take my word for it – I think the photos speak for themselves.