In honor of Cinco de Mayo, we're celebrating with a couple of festive CVap® recipes – our own twists on pork butt enchiladas and tamales!
Cinco de Mayo—or the fifth of May—commemorates the Mexican army's 1862 victory over France at the Battle of Puebla during the Franco-Mexican War (1861-1867). A relatively minor holiday in Mexico, Cinco de Mayo has evolved into a big celebration of Mexican culture and heritage in the United States, particularly in areas with large Mexican-American populations. Cinco de Mayo traditions include parades, mariachi music performances, and street festivals. Source: history.com .
BBQ Pork Enchiladas
CVap Cook & Hold Oven – Constant cook OFF (high yield).
Doneness 180, Browning 7.
Cook time 7:00 hrs; hold for at least 5 hours at Doneness 150, Browning 0.
Ingredients
Pork Butt 7 – 14 lb whole
Tex-Mex dry rub of your choice (I used my own secret blend)
BBQ Sauce
Flour Tortillas
Manchego Cheese, Shredded
Green Chiles, Chopped
Directions
Apply a layer of dry rub to pork butts as desired.
Preheat oven to 180 + 7 with Constant Cook OFF (high yield).
Cook with fat cap up for 7 hours.
Hold for a minimum of 6 hours at 150 + 0 (We held for 14 hours).
Allow to cool and shred. Mix enough of your favorite BBQ sauce with the pork to moisten.
Steam the tortillas briefly in CVap to soften them.
Mix the shredded cheese and chilies together. Spoon some of the pork and the cheese/chili mixture onto each tortilla.
Roll the tortillas, place in pan, and top with additional BBQ sauce and more of the cheese/chili mixture.
Bake in oven at 200 + 5 for 90 minutes.
Serve immediately and enjoy with your favorite Mexican beverage!
Tamales, CVap Style
Ingredients
Pork Butt, 7 to 14 lb Whole
Tex-Mex Dry Rub of Your Choice (again, my secret blend)
Red Pepper Sauce (or sauce of your choice)
Masa (cooked per label instructions)
Corn Husks
Directions
Apply a layer of dry rub to pork butts as desired.
Preheat oven to 180 + 7 with Constant Cook OFF (high yield).
Cook with fat cap up for 7 hours.
Minimum hold time 6 hours (we held for 14 hours).
Allow to cool and shred.
CVap Cook & Hold Oven – Doneness 200, Browning 5.
Cook time: 90 minutes – can hold at 150/0 for at least an hour.
Prepare masa and set aside.
Soak corn husks in warm water, set aside.
Mix enough tamale sauce into the pork to moisten. Add additional seasoning (cumin, red pepper, etc.) as desired.
Lay out a corn husk, apply a generous spoonful of masa and a spoonful of pork. Fold the corn husk to envelope the mixture.
Place in pan. Tamales may be stacked.
Pour tamale sauce over the top and bake.
Serve with additional tamale sauce.
Add some chips, salsa, guacamole, and margaritas with fresh lime, and you've got the makings of a real Cinco de Mayo Celebration!
Everyone's fried chicken is the best! Or everyone has a grandmother that made the best fried chicken. I get it; I really do! Everyone has their own techniques, tricks, and superstitions when it comes to making their "famous fried chicken." Well, my fried chicken is never the same. I do not prefer one technique over another. I am a fan of all styles. I don't care if its buttermilk fried, Korean fried, or country fried – as long as it's delicious and crave-able! Below, I have a recipe for a damn good piece of fried chicken. And at the end of the day, I really think that is paramount!
What makes this particular recipe great, besides tasting so good, is the fact that it is less greasy and can be prepared, mostly, ahead of time. Winston's CVap® is the KEY to all of this. What I have done is reduced the fry time from 12 minutes down to about 3 minutes, resulting in a super moist, less greasy, and crave-able fried chicken. A quick tip: the less time the chicken is in the oil, the less grease the breading will absorb!
CVap Chicken Process
The day I prepared this, I wanted something with Asian flavors. So that's where my approach came from. Let's get into the details of the process!
Brine:
Salt – 1 tablespoon
Sugar – 1 tablespoon
Water – 2 cups
Lemongrass, chopped and pounded – 2 stalks
Star anise, toasted – 4 each
Soy sauce – ¼ cup
Black peppercorns – 1 teaspoon
Ginger, fresh – 1 small knob
Lime juice – 1 tablespoon
Jalapeno, halved – 2 each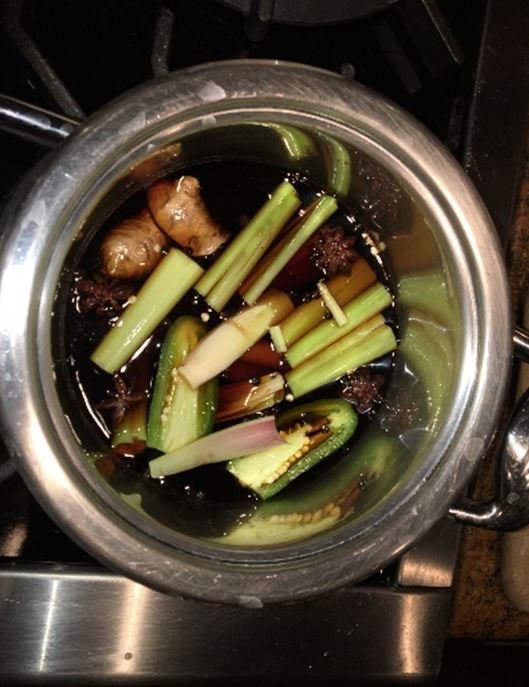 Place all the ingredients for the brine in a small sauce pot and bring to a boil. Once boiling, place a lid on the pot and turn off the heat. Cool to room temperature. Strain and cool in refrigerator until it goes below 40F. Heat the CVap Cook and Hold to 155 F + 0F, Constant Cook On, time of 3 hours.
I prefer thighs and legs of the chicken for my fried chicken so that is what I used. In two freezer bags, I placed six pieces of chicken in each bag and split the brine between the bags. When closing the bags, try and remove as much of the air as possible to ensure that the chicken is making contact with the brine as much as possible. Once your CVap is to temp, load the chicken and press Start. Tip: For older chickens or larger cuts of chicken, increase the cook time to 4 or 5 hours. This will help breakdown the connective tissues and make it much more tender.
Breading Process
As the chicken is cooking, prepare the breading. There is a wet and dry step. For the wet I mixed equal parts buttermilk and coconut milk. The flour, I used bread flour because there is higher protein in bread flour. Higher protein makes for a better crunch!
Wet:
Buttermilk – 1 cup
Coconut milk – 1 cup
Dry:
Bread flour – 1 ½ cup
Onion powder – 2 teaspoons
Garlic powder – 1 teaspoon
Salt – 1 teaspoon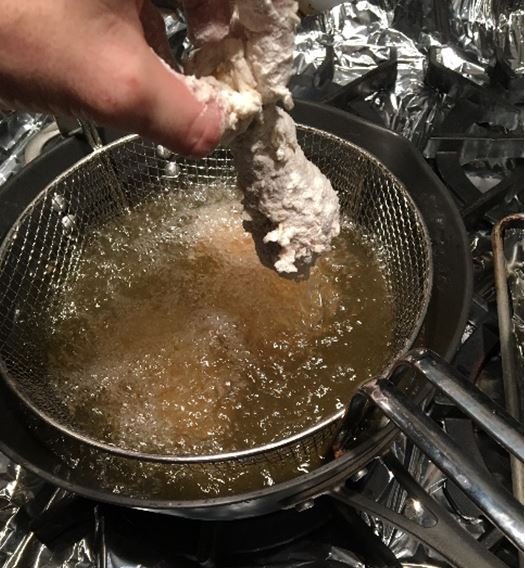 When the chicken is close to being done, prepare your pot of oil. You will want to use peanut oil because we will be frying 390F to 400F for this round. Tip: Cover your stove with foil to make cleanup much easier!
Once the chicken is done and you have the oil heating, remove the chicken from the bag and pat it dry with paper towels. When your oil comes to temp, turn down the heat to maintain that temperature and start the breading process. Dip the chicken in the wet mixture first and move to the flour mixture and back to the wet and back to the flour. That's how you get EXTRA CRISPY. If you do not want extra crispy just go through the process once. You will want to do about four pieces at one time as to not overload the oil and you don't want the chicken to sit breaded as it gets gummy.
Carefully put the chicken into the oil. When it is in, increase your heat on the oil to bring the temperature back to 390F – 400F. Since the chicken is already cooked, all you are trying to do is brown the breading! About three minutes in the oil will do. When you have reached your desired color, remove the chicken from the oil and let it rest on a rack. Season with a little salt.
The nice thing about this is if you don't want to fry all the chicken you do not have to. Leave it in the bag and place it in the fridge and the next day you can fry the chicken from cold. You will need to heat the oil to about 330F – 340F, but the rest of the process remains the same. The cook process will take longer, about 8 minutes, but hey it's still packed with all that flavor and the chicken is already cooked!
I topped mine with a mixture of sesame, scallions, soy, chili paste, lime and fresh ginger.
Enjoy!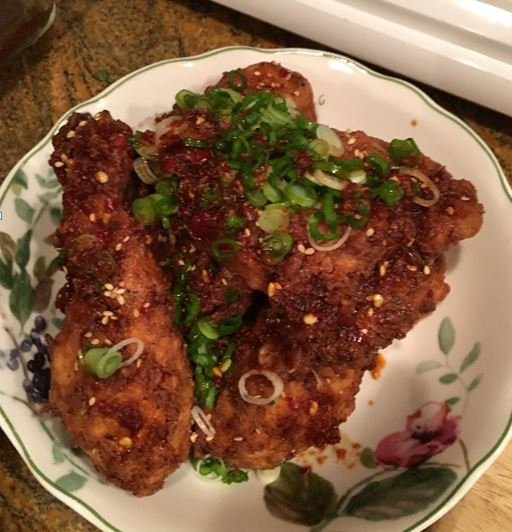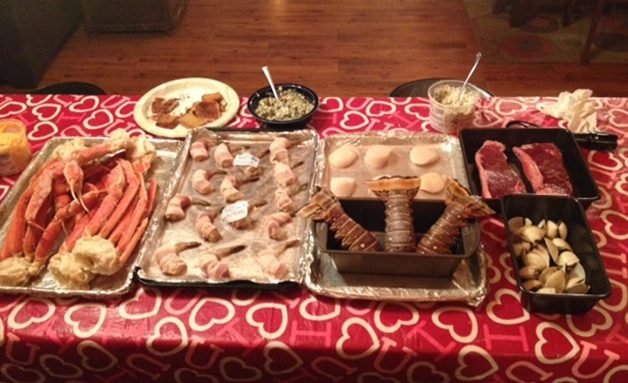 Growing up, we always had a Christmas Eve tradition, with seafood being the highlight. I grew up in South Florida near the water, with easy access to fresh seafood. It didn't matter if we caught or trapped it ourselves, or if we had to buy it at a seafood market, it was readily at our fingertips. Each year would be different, as we might have a traditional clam bake one year and fresh-caught yellowtails the next. I remember all of it like it was yesterday.
Now that I have a family of my own, I have carried on the tradition. Every year, I prepare a seafood feast to be happily consumed by our guests. I live in Michigan now, and fresh seafood is not so readily available. However, my friends at the Erie Fish Market (www.eriefishmarket.com) outside of Toledo, Ohio have made the process of finding and getting seafood much easier. Thanks to the guys at Erie!
One of the perks of my job is having a CVap® CAC503 Cook & Hold Oven in my kitchen. Over the years, I've cooked different seafood items in CVap, but never the whole shooting match. For this blog post, I decided I was going to try and see just how much food I could cram into my little CAC503. My menu consisted of butter poached warm water lobster tail, jumbo snow crab legs, jumbo sea scallops, little neck clams, bacon wrapped stuffed shrimp, steamed oysters, corn on the cob, red skinned potatoes and a couple of strip steaks (for my weird wife who doesn't like seafood).
I set my CAC503 to a low temp steam cycle with 100% humidity (doneness at 145 & browning at 0). I prepped and loaded ALL the seafood in the oven while my guests were arriving. Our party was going great, and the eggnog was flowing, which caused the seafood to be in my CVap oven a bit longer than I had originally planned (by two hours!). However, when I removed the food, it was perfect!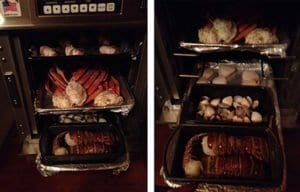 I asked some of my guests to sear the scallops, bacon wrapped shrimp, and steaks to finish them off. This was a fun way to get my foodie guests involved with the meal preparation. As they were searing these items, I placed some unsalted butter into the CVap to melt. I also cut and seasoned the potatoes and put them back in to stay hot with the crab legs, lobster tails, clams and oysters.
Once everything was on the table the only sounds were crab legs cracking and forks scraping the plates. The food was perfectly cooked. Lobster was a perfect texture, crab legs were easy to crack and melted in your mouth. The steamed clams and oysters were very plump and juicy. The texture of the scallops blew everyone away. The potatoes and corn even got high marks (I didn't even try them as there was seafood to eat). My experiment was a complete success! I will be doing this again next year but of course with a different menu. Any suggestions?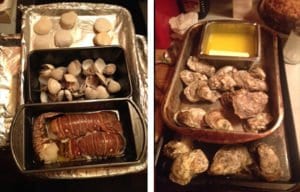 On a side note, I went overboard preparing for this dinner and we had a lot of leftovers. I decided to make a mixture of lobster, crab, clams, scallops, shrimp, a couple dashes of lemon juice, fresh dill and parsley. I picked up some flounder at Erie Fish Market, prepped the fish, and topped with the seafood mixture. I then topped it with Panko bread crumbs and Parmesan cheese. I broiled my seafood stuffed flounder until the top was brown and crispy. This was absolutely amazing!! It was great to eat two amazing seafood dinners back to back. Try it, I bet you'll like it.