Tag: cvap holding cabinet
According to some in the restaurant business, the traditional method for cooking perfect fried rice is to cook the rice, chill it in a walk-in cooler overnight, and then stir fry cold rice the next day. This method, however, creates an opportunity for bacteria growth. The USDA has established that bacteria which can cause illness grows much faster in the temperature danger zone, between 40 degrees and 140 degrees. USDA guidelines.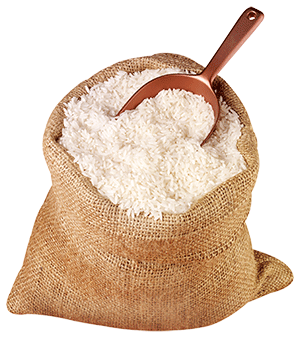 When rice is chilled below 40°F quickly, it reduces the opportunity for bacteria growth. Easier said than done! The reason is rice is often stored in 4″ or 6″ hotel pans. The deeper the hotel pan, the greater the mass of rice, and the longer it takes that rice to cool down, potentially putting it within the temperature danger zone. Plus, rice is often placed in a walk-in cooler to chill, forcing the cooler to work harder to remain cold. If hot rice is placed at room temperature to cool it could take hours, and is even more likely to put the rice in the temperature danger zone.
The inverse can be true when rice is reheated. If rice taken from a cooler is not heated quickly to at least 165°F, the potential for bacteria growth occurs again.
So what's a HACCP Safe solution for maintaining the perfect rice? CVap® hot holding. Holding rice in a CVap Holding Cabinet overnight keeps it hot and continuously maintains a safe food temperature. We've held rice for more than 14 hours and the quality remained outstanding!
So our revised process for cooking perfect fried rice is to hold the rice overnight in a CVap Holding Cabinet and then stir fry the hot rice the next day for serving. We recommend CVap holding settings of 150°F Food Temperature and Food Texture set at 0.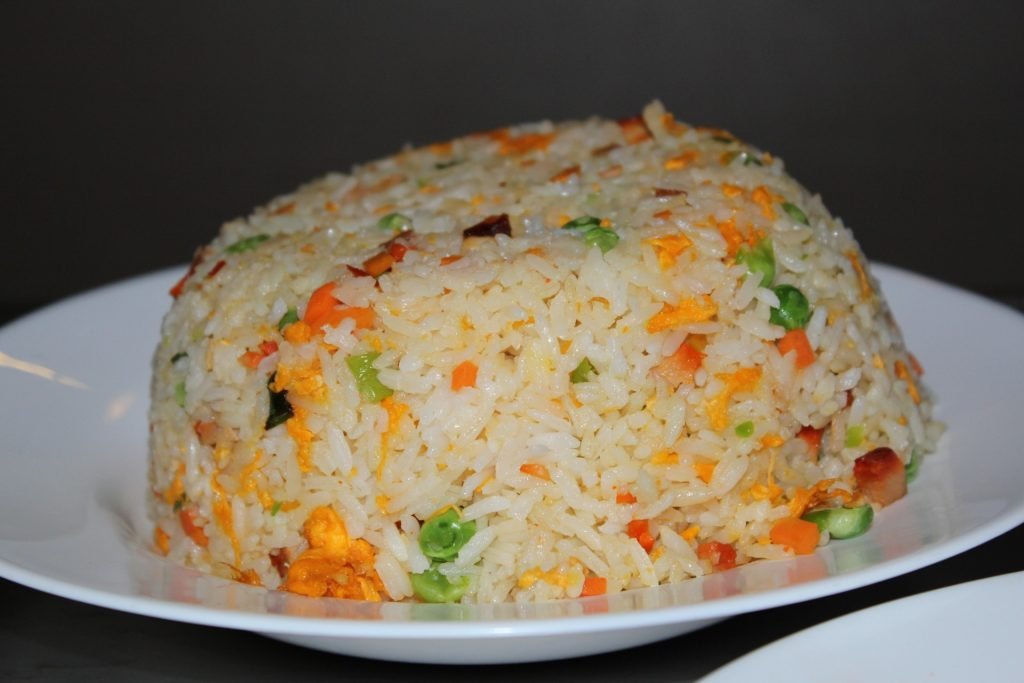 Yes, when it's tantalizing and tasty Ranchero Beans!
Lately there's been a lot of talk about what's being served in school cafeterias around the country. Take it from me, the best way to find out what's being plated in K-12 is to actually go to the schools and have lunch yourself. I work with schools around the U.S. and let me tell you there is some wonderful food around the country with creative ways of serving happening every day!
I suppose you could give an example based on new regulations that are taking place. But really those healthier options, even before the new regulations, have been putting school foodservice at the forefront of tasty recipes from one of the most demanding groups of customers there is – your kids.
The K-12 market segment food manufacturers have done a marvelous job with reformulating and reinventing a lot of the tasty treats your kids love to eat. Add in scratch cooking that's being done in many schools, and you've got some great recipes for healthy well-fed students that get kids ready to learn.
So here's my challenge to you. Would you try a dynamic and delicious made-from-scratch school food recipe at your next outdoor cookout?
Believe me when the side dish is tantalizing and tasty Ranchero Beans from a district like Brantley County Schools in Georgia, you can't go wrong.
Ranchero Beans
I took the original bulk recipe from School Nutrition Director Laura Lynn's Brantley County School District and honed it down for an at home gathering with family. I'm sharing the original with you along, with my version.
School style:
Number of Portions: 43
Size of Portions: ½ cup
Equipment:
CAT509 – CVap® Retherm Oven
HA4522 – CVap Holding Cabinet
Ingredients:
1 cup, (8 fl oz) water
2 tsp low-sodium ham base
1 #10 can/18.5 ct/.5 cup beans, canned, drained, rinsed
1 can #10 tomatoes, diced, canned
1 cup frozen diced onions
2 tbsp Italian seasoning
1 tbsp cumin, ground
1 tbsp salt, table
1 tsp pepper, black
¼ cup mild banana pepper rings
Preparation:
Pre-heat your CVap Retherm Oven by pressing Channel 6.
Place can of tomatoes, drained beans and onions in a 2" deep hotel pan. Add one cup of warm water mixed with the ham base. Add Italian seasoning, cumin, salt and black pepper. Mix well and place pepper rings on top. Once oven is pre-heated, place in the CAT509 and cook for 30 minutes. Then place in HA4522 Holding Cabinet with a food temperature of 155°F degrees and a food texture of +10 degrees until ready to serve. Serve students with #8 scoop or ½ spoodle.
Home Style Version
Ingredients:
½ cup of water
¼ tsp of low sodium ham base (I used Better Than Bouillon brand)
2 cans 15.5 oz unseasoned pinto beans drained, rinsed
2 cans 14.5 oz diced tomatoes
¼ cup frozen diced onions (I used Kroger brand)
¼ tsp Italian seasoning (I used McCormick brand)
¼ tsp of cumin
1/8 tsp salt
¼ tsp pepper
6 or 8 mild banana pepper rings
Preparation:
Mix all of the ingredients together in a half size aluminum hotel pan and then use a CVap CAC503 Cook & Hold set to 90°F+9 for 30 minutes on high yield so it will drop into an automatic hold of 150°F following the heat cycle to warm.
If you don't have a CVap oven at home home…
Combine the ingredients in a gallon or soup pot, reserve the mild banana rings for topping. Heat on medium on top of the stove, covered until warm, then put the banana pepper rings on top for serving.
I then served this to friends and family and asked them all what they thought.
They loved it! Then the big reveal…I told them it was school food!
Check out this wonderful dish and try it at home. Take heart in knowing that schools all over America are serving great dishes like this to your children, which have been cooked fresh in Winston Retherm Ovens and held at just-cooked quality in Winston Holding Cabinets, with the one and only CVap technology.
CVap® is a warm welcome addition to any commercially-sized foodservice kitchen. Many say CVap typically becomes one of the favored pieces of equipment in the kitchen, while others swear they would not open a kitchen without CVap. That is quite a compliment to Winston Foodservice, a family-owned manufacturing company made up of hard working and dedicated people in Louisville, Kentucky. Winston is a global manufacturer exporting products all over the world.
CVap may be found in various areas of the kitchen. This month let's focus on the HBB5D1 CVap® Holding Drawer and a unique area of placement. Kitchens are getting more compact – every square foot needs to be utilized to create an efficient work space for fantastic results. Consider CVap drawers in your cook line. There are so many choices in equipment options: free standing, counter top, standard oven base, convection oven base, cabinet base, refrigerated base, and CVap drawers placed within a customized equipment stand! Let your culinary mind wander to the possibilities of what items could be holding warm in a perfect CVap environment to assist with extended holding times, without diminishing food quality. See drawing below to modular sized equipment stands in 1, 2, and 3 CVap drawer configurations. Each drawer requires 120 volt 13.1 full load amp operation.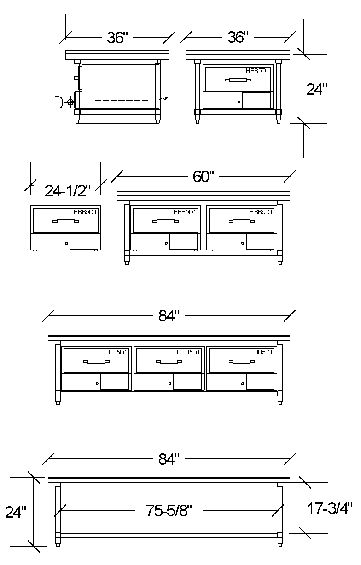 I worked with an owner/end user with an extremely small kitchen who was frustrated with long ticket times of 40 – 45 minutes during peak service times. He had experienced CVap with his prior partnership and was not part of procedures with this new concept. He called us in for suggestions. Upon arrival, I noticed his cook line was using counter top equipment with refrigerated drawer base. We reviewed that everything he was staging cold would be perfect for staging warm instead, which would greatly reduce heat up time from 40°F to 165° F on a griddle or broiler surface, assemble the dish and out for service it would go. He loved the idea and implemented a two drawer equipment stand and an additional CVap holding cabinet in an adjacent room for additional hot holding back-up when his patio opened in the summer and doubled his seating capacity.  He is one ticket time reduced CVap customer!