Tag: Equipment Grant Winner
Like a lot of people in the foodservice industry, I didn't intend on ending up here. Also, like a lot of people in the foodservice industry, I didn't intend on still being here over a decade later. One of the many reasons I still am, however, is the fact that I've been fortunate enough to work with Child Nutrition the entire time. There's truly not a better collection of warm and caring individuals in this world and I am proud to be a part of their family. And what I am most proud of is when my other family, Winston Industries, provides the Equipment Grant Award. Well, that and keeping me employed…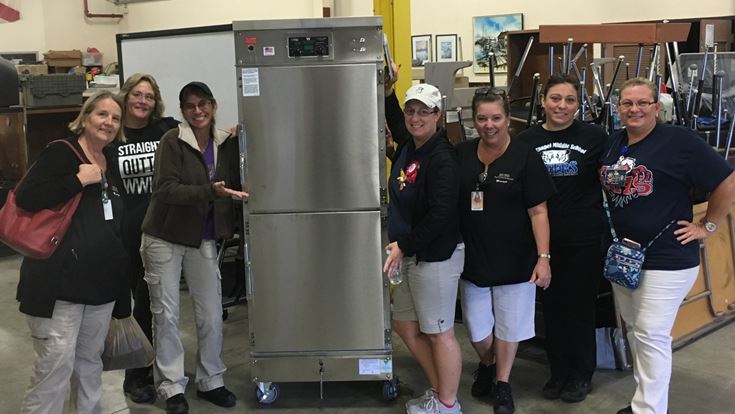 Every year through a competitive grant process at SNF, our company gives away 10 pieces of equipment (of the winner's choosing) in our holding cabinet or oven line. That amount of free equipment could represent a monumental change for anybody, much less a district in extreme need! Covering the Southeast, I've been lucky enough to work directly with three of these grant winners, as well as a district in my home state of Mississippi who we helped post-Katrina. This year lightning struck again and I got my fourth winner, Hernando County Public Schools in Brooksville, Fla.
Hernando County has about 25 schools and Food & Nutrition Services Director, Lori Drenth, designated nine sites to receive the seven Holding Cabinets and three Thermalizer Ovens she chose after winning. Along with helping to feed an increasing number of students in older kitchens, this equipment will allow her staff to be able to truly do batch cooking and serve food at its highest quality. And as she said, "it's like Christmas when a kitchen gets new equipment and it instills a sense of pride in the employees knowing their school is getting that investment." It gives me that same sense of pride to work with these people and a company that makes money selling equipment, but also gives some away for a good cause!
You can apply for next year's grant starting on January 10, 2017. Learn more here!