Memorial Day is upon us. It's a time to reflect on the sacrifices of our men and women in uniform. It's also the official start of the summer season. Think summer foods, and the first thing that comes to mind is burgers. Here's a delicious twist on burgers – made better with CVap (of course).
Not only does Memorial Day begin summer, it also immediately precedes June – a.k.a. National Turkey Lovers' Month. So what does that mean? That's right – turkey burgers! But not just any turkey burgers – these burgers started with CVap® Staging.
First a question: do any of you get frustrated when someone describes turkey burgers as being dry, flavorless, or dull? With the abundance of techniques we have at our disposal, and the enormous variety of flavor combinations to choose from, there's just no excuse for it! And of course we love turkey as a starring protein because it is a lean, versatile option.
For this post, we experimented with two different approaches, though our base mixture was the same for both. We combined ½ lb. of ground turkey with two beaten eggs, ¼ cup of Bourbon Barrel Soy Sauce, ½ of an onion (minced), One minced garlic clove, and one cup of Panko bread crumbs. Once the mixture was gently combined, we formed 3-ounce patties and put some on a parchment-lined half-size sheet pan.
We took the other half, placed them in pouches for vacuum-sealing, and then added a little smoke for an extra dimension of flavor. It was just enough to give the burgers a subtle smokiness without it being overwhelming.
All of the patties then went into a CVap Cook & Hold Oven with Constant Cook ON, a Food Temperature (Doneness) setting of 145°F and a Food Texture (Browning) setting of 0, for 30 minutes.
To finish the patties, we pan seared them for texture and brought them to a finished temperature of 150° to 155°F (though tossing them on a grill for quick finish would work equally well). CVap® Staging and then finishing in this manner yielded extremely well-textured, moist, and flavorful burgers.
The patties that were vacuum-sealed wound up being the perfect size and shape for the toasted ciabatta rolls we were using. We dressed those simply, with fresh torn cilantro and a chipotle salsa (fresh pico mixed with pureed chipotle peppers) that complimented the slight hint of smoke in the patty.
After pan-searing the more traditional patties, we treated a ciabatta bun to Sriracha mayonnaise on one side and an explosively delicious mixture of pureed onion, Bourbon Barrel Soy Sauce, and minced ginger and garlic on the other side. We finished it off with a mixture of tender baby lettuce and torn, fresh cilantro.
While the first, Latin-inspired burger was extremely tasty, the Asian-influenced burger was off-the-charts delicious. We can't wait to make it again!
So what exactly is CVap® Staging? Using this process, food is brought to the exact internal temperature desired and then held there – without overcooking or drying out – until it is time to finish and serve the dish. This means that the final flavor-enhancing and texturing touches can be made just moments before the food is served. Imagine how much faster you could push plates out of a kitchen!
For more information about the complete line of CVap products, please visit our website at winstonfoodservice.com .
Not long ago I had a talented chef come to the Winston factory in Louisville to do some testing. He was preparing to open a new "traditional" style steakhouse in Chicago. Knowing how the competition was for that segment, he needed an ace up his sleeve. He had heard quite a bit about our CVap® technology, but wanted to see it for himself. So he came to town with a very specific goal: to test a CVap Cook & Hold Oven side-by-side against an immersion circulator. He also had some very specific food items he wanted to test, so he came bearing gifts in the form of beef, pork, and chicken. I knew I had two days of caveman-style protein consumption to look forward to!
I already had some experience with side-by-side testing with the circulator, so I thought I knew what to expect. I was wrong. This chef was very detail-oriented and wanted to capture all the results with precise notes and pictures. So that's how we approached the project, and I was very surprised by what we found. I already knew about the procedural efficiency and cost savings made possible by choosing CVap over the circulator, but I was not prepared to discover just how much better it performed with regard to texture, flavor, and consistency. Time after time we were both surprised after tasting the finished food items.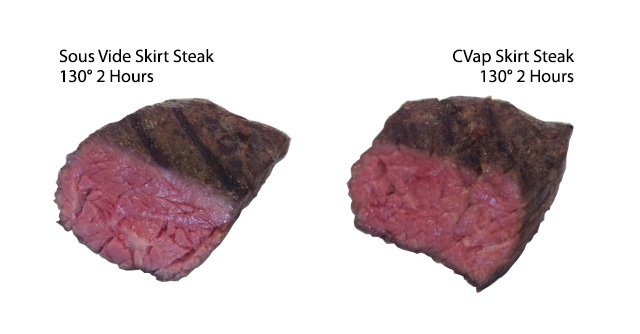 We tried three different methods for each item. We bagged and vacuum-sealed short ribs, mock tenders, beef filet, ribeye steaks, NY Strip steaks, skirt steaks, and half chickens. We also had one of each item for our bag-less CVap sous vide-style process. We then cooked and finished each product. We did one each bagged in the circulator, one each bagged in the CVap, and one each bag-less in the CVap. The results for each product weighed fairly heavily in favor of the bag-less CVap sous vide process in terms of flavor, texture, consistency, and moisture retention. Each protein was just more tender and easier to handle than the more complex traditional sous vide process.
Then there's also the question of capacity. We realized that he would need at least four circulators to do what we were doing in one half-sized CVap CAC509 Cook & Hold Oven, which negated the cost difference of the two options. So much so that the CVap worked out to be the less expensive option. Not to mention the continuous cost savings each year of not having to use the plastic products and the labor savings during prep time without the need for bagging the food items.
But don't take my word for it – I think the photos speak for themselves.