Whenever the weather starts turning cool, my thoughts turn to soups, stews, and broths. There is nothing better to take the chill off your bones than a piping hot bowl of soup. I am often asked if CVap can be used to make a good stock or broth, and the answer is a resounding yes! Over the years I've made great beef, pork, and poultry stocks. I've made Tonkotsu ramen broth out of mountain ham bones. One of my favorite broth-based dishes to make and eat is Pho. Pho is a traditional Vietnamese noodle dish with fragrant and aromatic broth. No matter which broth is your favorite, the basic method detailed in this recipe creates a beautiful result. No worries about scorching with CVap – just enjoy this wonderfully fragrant, aromatic broth!
Ingredients
Recipe yields 10 servings
4 kilograms assorted beef, pork neck and poultry back bones
(charred bones in CVap cook & hold 150°F food temp 10, level browning for 2 hours)
4 onions
6 carrots (rough cut into large pieces)
7 stalks of celery (rough cut into large pieces)
6 pods star anise
85 grams of sliced fresh ginger
45 grams garlic cloves (smashed)
21 grams kosher salt
32 grams fish sauce (I prefer Red Boat fish sauce 40N )
10 liters of cold water
3 (8oz.) packages dried noodles
1.5 kg top sirloin (thinly sliced)
2 bunches of cilantro (stemmed and roughly chopped)
2 bunches of scallions (roughly chopped)
3 cups bean sprouts
2 bunches Thai basil
Limes, cut into 4 wedges
Bourbon Barrel Soy to taste
Chef Edward Lees Sambal Hot Sauce to taste
Directions
Preheat CVap cook & hold oven to 150°F food temperature and 10 level browning.
Place bones in 6" deep full-size hotel pan and roast in the preheated oven until browned, about 2 hours.
Place onion on char broiler and grill until blackened and soft, about 15 minutes.
Add charred onion, carrots, celery, ginger, garlic, salt, star anise, and fish sauce in the pan with roasted bones and cover with 8 liters of cold water. Place pan in CVap oven set to 190°F food temperature and browning level 3. Simmer for minimum of 12 hours. Strain the broth into a clean hotel pan and place back into CVap unit until you are ready to serve.

Place rice noodles in large bowl filled with room temperature water and allow to soak for 1 hour. Bring a large pot of water to a boil and after the noodles have soaked, place them in the boiling water for one minute.

Divide noodles among 10 serving bowls; top with sirloin, cilantro, and scallions. Pour hot broth over the top. Stir and let sit until the beef is partially cooked and no longer pink, 1 to 2 minutes. Serve with bean sprouts, Thai basil, lime wedges, BBF soy sauce, and Ed Lee Chile-Garlic sauce on the side.
We are indulging a lobster fetish right now, and our timing couldn't be better. The current market value on lobster is a bit more reasonable than it has been in a while.
It wasn't until the mid-nineteenth century that lobster became popular in North America, but it wasn't until the 1950s that it came to be regarded as a "fancy" food. In fact, there was a time when lobster was considered a trash food, fit only for the poor. The crustacean was considered the "cockroach of the ocean." Read on for more about How Lobster Got Fancy.
In addition to its inherent deliciousness, another plus for lobster is that it is a heart-healthy food – lower in calories, cholesterol, and saturated fat than lean beef, white meat chicken, pork, or even shrimp. Grilled, steamed, boiled, poached… no matter how you cook and serve it, nothing can top properly prepared lobster!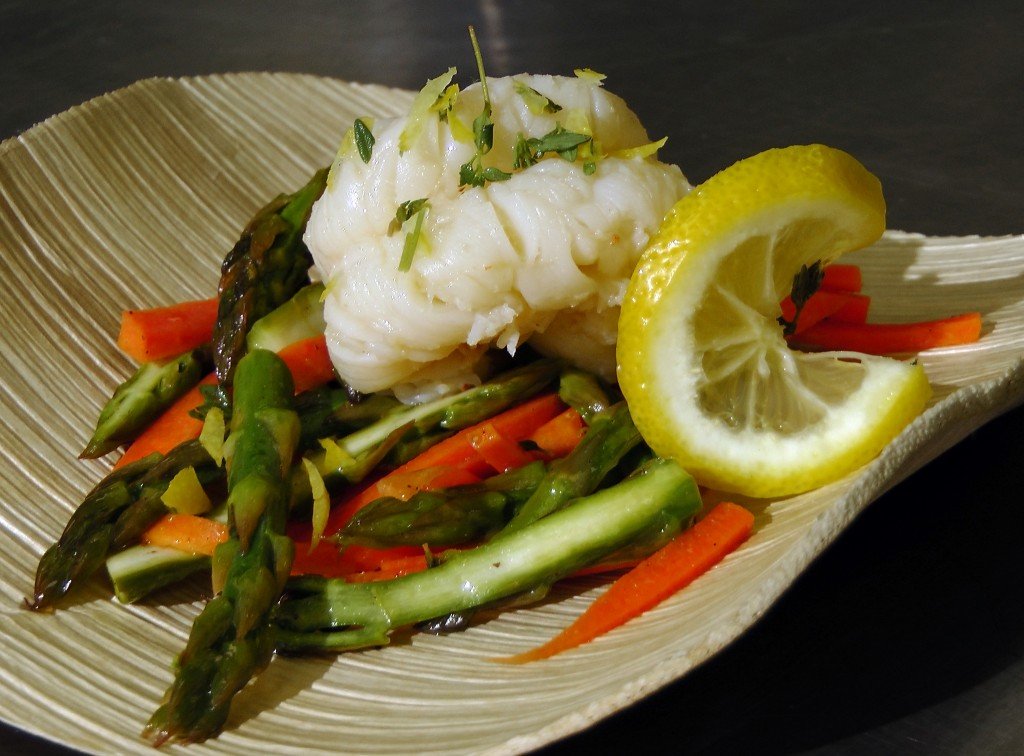 For the dish featured in this post, we went with a very straightforward preparation in order to let the lobster's sweetness really shine. We butter-poached lobster tails with thyme and lemon in a CVap® Cook & Hold Oven at 200°F + 0 for 12 minutes. The cooked tails were seasoned with salt, pepper, and lemon butter, and served with a spring vegetable medley of fresh asparagus and sweet baby carrots (steamed in the CVap oven). It tasted like a plate full of seaside sunshine!
We also tested butter poached lobster at two different settings in a CVap Cook & Hold Oven – see results below: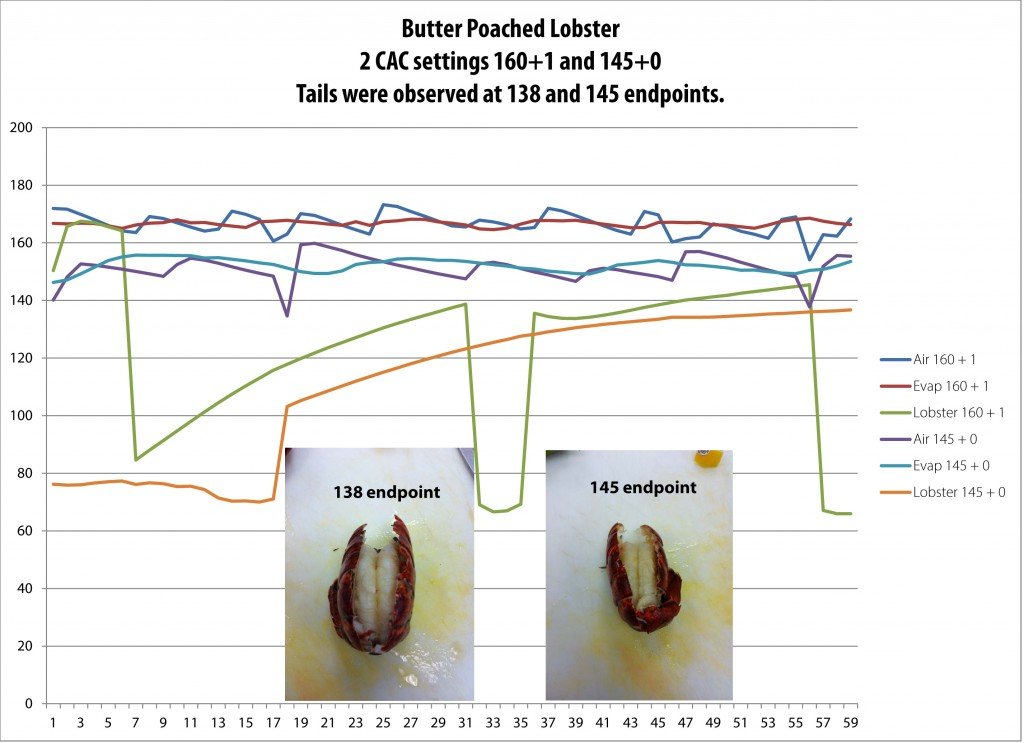 Looking for a different way to showcase lobster? Consider some of these serving ideas:
Spread pesto on a pizza crust and top with chunks of lobster tail meat, grilled or roasted corn and asparagus, dot with small bits of brie and bake – how decadent!
Drizzle sesame, ginger, and lime over Vietnamese-style lobster and vegetable spring rolls in rice paper wrappers.
Serve citrusy lobster ceviche with avocado and yucca chips.
To heat things up, sauté lobster in a spicy tomato sauce and serve over pasta for Lobster Fra Diavolo.
Substitute lobster for Canadian bacon for the most indulgent Lobster Eggs Benedict imaginable.
Ditch the chicken and go all out with Lobster pot pie!
Take your lobster bisque in an Asian direction with a hint of curry and curried croutons for topping.