Tag: School Nutrition Association
School Nutrition's Annual National Conference and Exhibit
San Antonio, Texas, is the seventh most populated city in the United States and the dry 100 degree days in July are HOT! It was definitely cooler inside the Henry B. Gonzalez Convention Center, but the action and learning was just as hot as the south central Texas days outside.
The School Nutrition Association (SNA) Annual National Conference pulls members and vendors from all across the U.S. and is likely one of the most fun events you can attend each year as a K-12 professional. We always have a great time and a great theme in the Winston booth. This year we were dedicated to Mission: Possible!
And like always, we dressed, played and had fun with the part!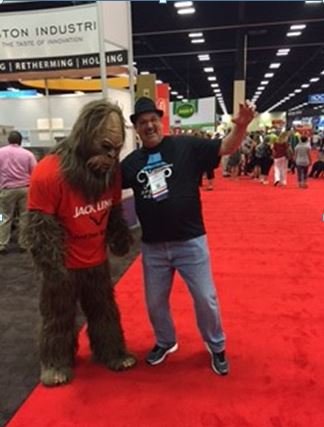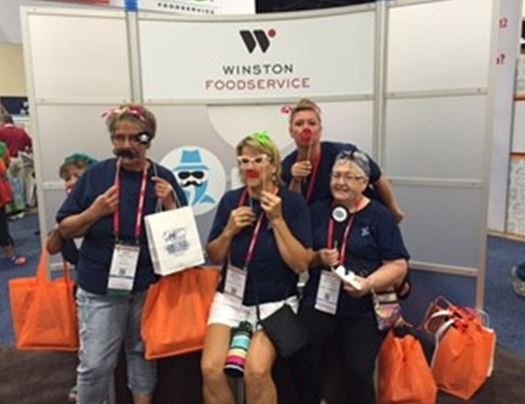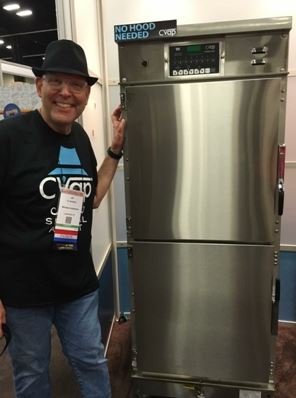 This may have been one of our most active times at this yearly conference so far. Fans of CVap stopped to learn and have fun in droves.
Everyone enjoyed the Winston "Selfie Station," nights on the Riverwalk, The Annual Membership, Star Club Breakfast, and so much more.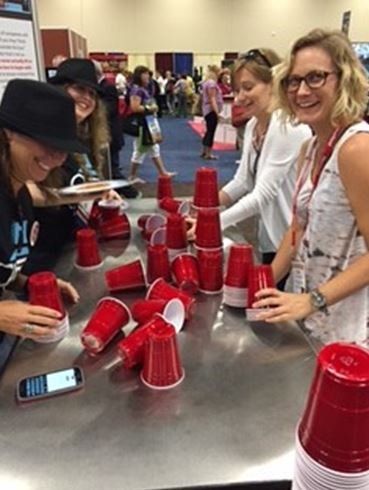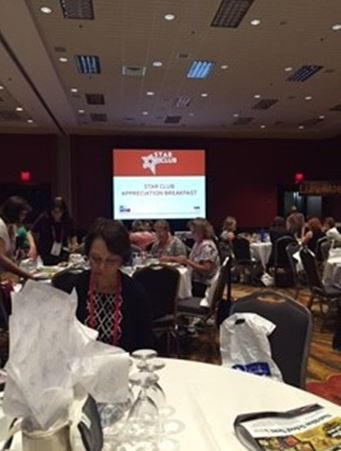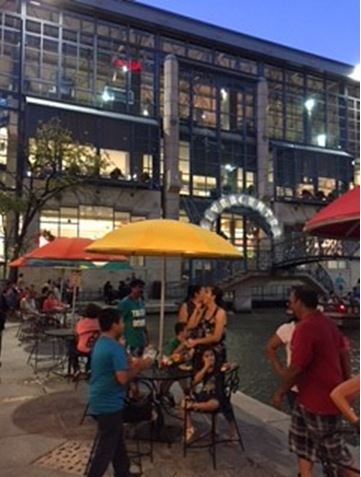 Honestly I have about a hundred photos and trying to choose which ones to post was not easy! My favorite though, was this shot at the airport as we were all leaving to go home. One of many examples I saw while everyone waited to board their respective flights. Another awesome time at SNA's ANC with your CVap friends at Winston!
Working with State and National School Nutrition Associations
The School Nutrition state conference schedule started in March, 2016. Alabama and Oregon were the first to kick off their events. I'm fortunate enough to serve on both the executive board and the exhibit or expo board in Alabama as an Industry member. I also serve as the Industry representative to the Membership committee for the School Nutrition National Association. That's why I'm very proud of the work Alabama has accomplished in recent years. Alabama's School Nutrition membership has had steady growth for the last four years. I've actually witnessed the sheer amount of people that now attend the Conference and Expo, compared to 2012.
With every state conference and exhibit, it's all about support. All of the state associations run with varying degrees of staff and help depending on the support they get. One major factor is industry support. These are the companies that buy space at annual exhibits to show food products, kitchen equipment, software and other technology that could easily help each kitchen run more efficiently.
As each vendor gets ready to load in, the first day looked like this:
But in just a few hours it looked like this:
Some states have two-day shows with selected hours on the floor of the exhibition that are designated strictly for purchasers. Alabama had a one-day show this year. Typically, each state tries to mix things up to get the best out of what is likely their biggest support event of the year.
Most of the time the conference eclipses with an awards banquet. This year it was exceptional…particularly for me.
I work with a School Nutrition Foundation committee assigned to interviewing School Nutrition Heroes. These are people who not only perform in their jobs, but actually work in the program. They go above and beyond, sometimes with difficult odds and outcomes to help super serve their communities. These people are honored each year along with a new group of five at School Nutrition's Legislative Action Conference in Washington, D.C.
Alabama is one of only two states that has two heroes. 2013's Karen Watson from Sylacauga City Schools (left) and 2016's Samantha Ingram from Geneva County Schools (right).
No doubt I have gotten as much from the experience as they have, just by knowing them and seeing the things they've accomplished. This photo was taken less than two weeks after Samantha was honored in DC at the Alabama SNA awards banquet. It really is all about support. The membership, the State Association, the Vendors, Superintendents, Principals, PTA, and on and on. A lot of effort from a lot of different places. But I can tell you, in my experience, the reward is awesome.
This is an American story.
There is an emerging trend of Native American fare starting to make its way onto restaurant menus. A great example can be found at a restaurant called Ulele (pronounced You-lay-lee) in Tampa, Florida, where they celebrate a vibrant fusion of ingredients from the waters and land that was once home to many Native Americans, including the young princess Ulele. Check out their website at www.ulele.com.   If you travel to Tampa and stop in at Ulele, ask for Chef Eric Lackey!
But what makes this story uniquely American is how we adopt foods that lean toward the countries that have emigrated here. This is happening in schools across the country and kids everywhere love the variety, and of course for some it is a learning experience!
In 2012, the School Nutrition Association noted a growing prevalence of ethnic food choices in school cafeterias, with schools offering Mexican and Asian dishes, and many experimenting with Middle Eastern, Greek, Kosher/Halal, and Indian foods.
Students in Miami-Dade County Public Schools have been invited to choose from Teriyaki Chicken with Lo Mein Noodles; Curry Chicken Salad; Black Beans & Rice Bowls and Cuban-style Roast Pork. The district offers a wide range of Hispanic dishes throughout the year, including Arroz Con Pollo and Picadillo with Rice and Plantains. (Source: Diane Pratt-Heavner, Director of Media Relations, SNA-The Food Journal and Food, Nutrition & Science)
School nutrition future leaders met for the National Leadership Conference in Minneapolis. This part of the story of Somalis coming to Minneapolis-St. Paul is a story of freedom. Somalis first immigrated to the Twin Cities as voluntary migrants in the 1980s and earlier. They journeyed to attend scholastic institutions or to establish businesses, including many professions. Other Somalis arrived in the United States after the start of the civil war in Somalia during the early 1990s, or from other parts of Greater Somalia. Many of the newer arrivals moved to Minnesota through voluntary agencies (VOLAGS), who helped them settle in. Somalis that had arrived earlier also assisted the more recent immigrants (Wikipedia).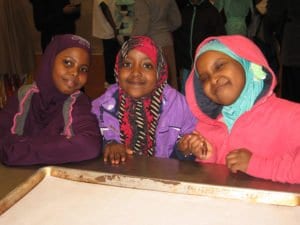 So of course Somali food from home had a profound effect on the Twin Cities and made its way on to school lunch menus in both school districts.
Chicken Suqqar is basically meat and veggies, Somali style. It was such a big hit at St. Paul School District's Somali Parent Advisory Council meeting that they released the recipe for home use! I thought you might like to try it! I suggest a brown basmati rice under the mixture, I used boxed broth instead of chicken base and reduced it with chicken breast then removed and diced the chicken, added it back in and then followed the Chicken Suqqar directions. I also chose fresh carrots. You can do it anyway you like because this dish very versatile.
By the way, the school nutrition department where your kids go to school would be more than happy to have you as a guest to try the food being served. Just go to the district website and click on the Food and Nutrition Department. My experience has been that they want you to share their sense of pride in the local delicious diversity that they serve as a part of your community.