This is an American story.
There is an emerging trend of Native American fare starting to make its way onto restaurant menus. A great example can be found at a restaurant called Ulele (pronounced You-lay-lee) in Tampa, Florida, where they celebrate a vibrant fusion of ingredients from the waters and land that was once home to many Native Americans, including the young princess Ulele. Check out their website at www.ulele.com.   If you travel to Tampa and stop in at Ulele, ask for Chef Eric Lackey!
But what makes this story uniquely American is how we adopt foods that lean toward the countries that have emigrated here. This is happening in schools across the country and kids everywhere love the variety, and of course for some it is a learning experience!
In 2012, the School Nutrition Association noted a growing prevalence of ethnic food choices in school cafeterias, with schools offering Mexican and Asian dishes, and many experimenting with Middle Eastern, Greek, Kosher/Halal, and Indian foods.
Students in Miami-Dade County Public Schools have been invited to choose from Teriyaki Chicken with Lo Mein Noodles; Curry Chicken Salad; Black Beans & Rice Bowls and Cuban-style Roast Pork. The district offers a wide range of Hispanic dishes throughout the year, including Arroz Con Pollo and Picadillo with Rice and Plantains. (Source: Diane Pratt-Heavner, Director of Media Relations, SNA-The Food Journal and Food, Nutrition & Science)
School nutrition future leaders met for the National Leadership Conference in Minneapolis. This part of the story of Somalis coming to Minneapolis-St. Paul is a story of freedom. Somalis first immigrated to the Twin Cities as voluntary migrants in the 1980s and earlier. They journeyed to attend scholastic institutions or to establish businesses, including many professions. Other Somalis arrived in the United States after the start of the civil war in Somalia during the early 1990s, or from other parts of Greater Somalia. Many of the newer arrivals moved to Minnesota through voluntary agencies (VOLAGS), who helped them settle in. Somalis that had arrived earlier also assisted the more recent immigrants (Wikipedia).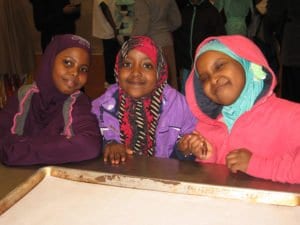 So of course Somali food from home had a profound effect on the Twin Cities and made its way on to school lunch menus in both school districts.
Chicken Suqqar is basically meat and veggies, Somali style. It was such a big hit at St. Paul School District's Somali Parent Advisory Council meeting that they released the recipe for home use! I thought you might like to try it! I suggest a brown basmati rice under the mixture, I used boxed broth instead of chicken base and reduced it with chicken breast then removed and diced the chicken, added it back in and then followed the Chicken Suqqar directions. I also chose fresh carrots. You can do it anyway you like because this dish very versatile.
By the way, the school nutrition department where your kids go to school would be more than happy to have you as a guest to try the food being served. Just go to the district website and click on the Food and Nutrition Department. My experience has been that they want you to share their sense of pride in the local delicious diversity that they serve as a part of your community.