Holidays may be the time for tradition, but we decided it was time to shake things up! This year we cooked the infamous turducken. In case you aren't familiar, this is a turkey, duck, and chicken all rolled into one. Sound too good to be true? Honestly, we thought so too!
Let us warn you, this isn't a task you take on unless you are fully committed to the challenge. Patience is your friend during the time you prepare the infamous turducken.
Process
1. Debone all meat – turkey, chicken, and duck. We did this the day before to save some time. Depending on your expertise, this can take about 45 to 90 minutes.
2.
Make stuffing to place in-between each layer of meat. This is the list of ingredients we used, but feel free to put your own spin on this favorite. We also made a double batch for each turkey to ensure we had enough for each layer.
Stuffing mix of your choice (we used corn bread)
Celery
Onion
Chicken Broth (or Vegetable Broth)
Fresh Parsley
Fresh Sage
Minced Garlic
Paprika
Pepper
Salt
Now for the turducken!
Season each piece of meat with salt and pepper.
Lay turkey out flat so it's ready for the stuffing.
Pat the first layer of stuffing on the turkey.
Place chicken thighs on top half of turkey, and chicken breasts on the lower half.

Pat a second layer of stuffing on top of the turkey-chicken combo.
Place the duck in the middle of the stuffing layer.
Add the last layer of stuffing.
Begin to pull up sides of turkey to secure everything inside with twine or skewers.
Season outside of turkey – we used paprika, salt, and pepper.
Settings
We doubled up and made two turduckens, one was cooked using our CVap® cook and hold while the other was prepared through staging in our CVap cook and hold and then fried in our Collectramatic® pressure fryer.
The turducken prepared in the cook and hold was cooked on high yield at 170 doneness and 4 level browning for 6 hours then held overnight for 8 hours at 150 doneness and 1 level browning.
The staged and fried turducken was staged at 165 and 0 browning over night for 14 hours and then finished in the Collectramatic fryer for 3 minutes.
Roasted turducken – 82% yield
Staged & fried turducken– 84% yield
I'm sure I'm not the only one who builds up enough points to get a "free" turkey at their grocery store.  I hadn't had a chance to cook the one from last year before this year's came along.  So, it was time to make room in the freezer. Over the years I have explored cooking many different foods sous vide style in CVap. To be accurate, only things that are vacuum sealed can be called sous vide – it's a French thing. The literal translation of sous vide is under vacuum in English. However, the same precision cooking that you get by sealing something in a bag and dropping it into a water bath heated with an immersion circulator heater can be done in CVap.
I pulled the turkey out a few days ahead of time to defrost in the fridge, pulled the organ meats and neck out and gave it a good rinse. Grocery store birds are technically brined with a salt solution at the factory (read the small print on the package) so there was nothing to do but get the CVap set up. My intent was to start the bird early in the morning and get it close to a final temperature of 160 degrees F so that I could finish it in a 500 degree F oven to add texture. To make sure I had an idea of what was going on inside the bird I bought a new toy that has a Bluetooth temperature probe that sent a temperature chart to my iPhone.  Yeah, I'm a sucker for kitchen gadgets and this one is particularly cool.  The temperature charts throughout the process. The CVap cook and hold was set to 160 doneness and 0 Browning.  Essentially the CVap is acting like an immersion circulator at this point. I put the probe in the thigh joint, put the turkey in the oven and went about my day. I knew that at some time during the day the turkey would get to the set point of 160 and that it would stay there.  By keeping tabs on the progress I would get an idea of when I needed to get everything else ready.
When the turkey got to 160 and all of the side dishes were done, I fired up my convection oven to 500 degrees. I put some fresh thyme and sage in a stick of melted butter and basted the turkey with it before browning it in the convection oven.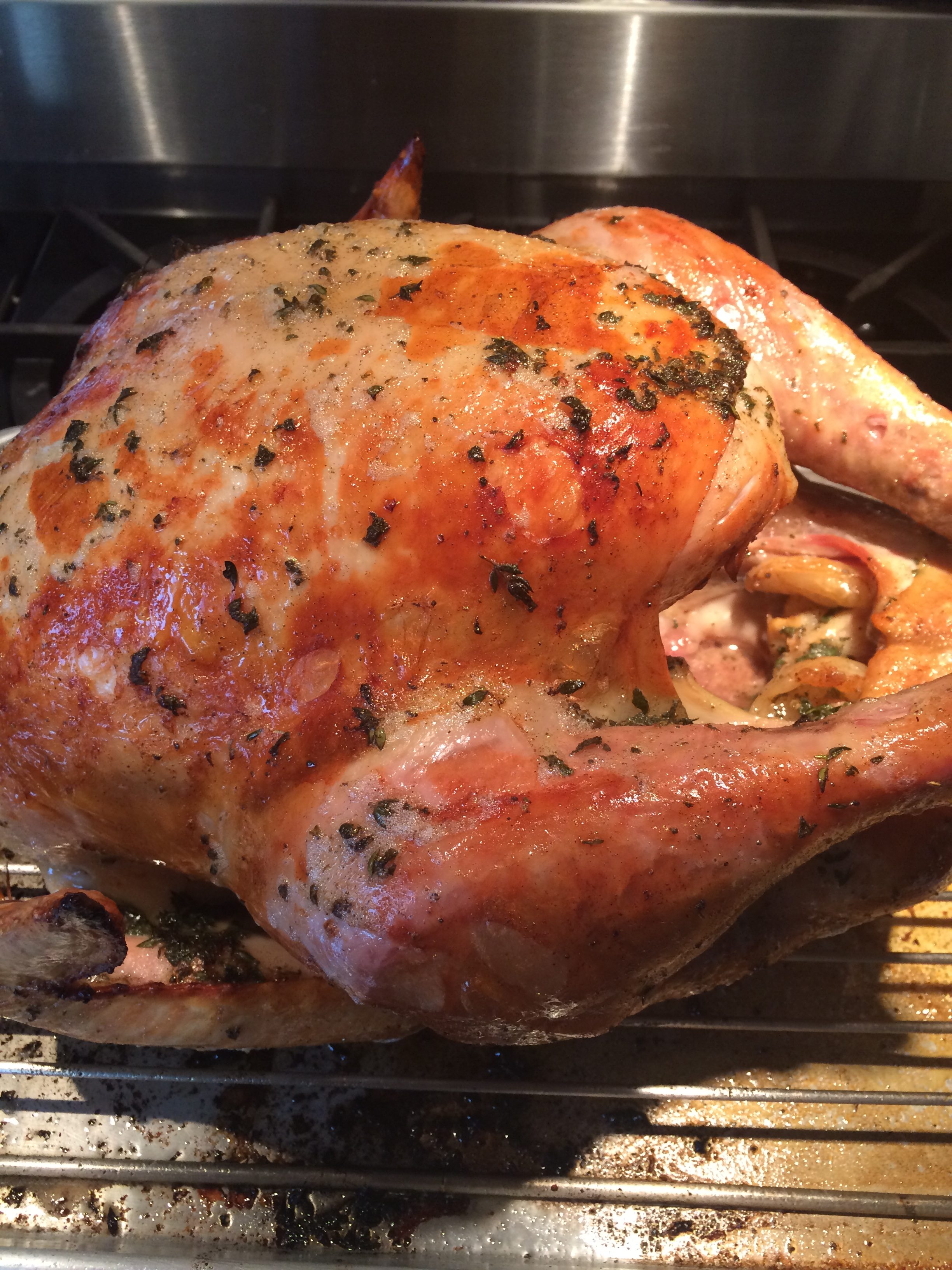 Ten minutes in the convection oven to add texture and the turkey was done!  No trussing of the bird, no hassle and everything done at the same time with very little hassle.  This is my method for Thanksgiving (and anytime) turkey from this day on!