Tag: Georgia Equipment Academy
Every year, members of the Industry segment of the School Nutrition Association gear up for what we call "school show season." We travel from state to state and participate in each association's annual School Nutrition Conference. We set up our booths, catch up with our industry peers, mingle with our customers, and try to "sell our wares," as my friend Joey says. But as a member of the Equipment delegation of Industry, often we find that state shows are more about food than our hardware. It's understandable, considering that food makes up the largest expenditure for every school nutrition operation. Still, it can be frustrating because as sales people we are at the mercy of that goal we have to hit.


For years, I have heard about the Georgia Equipment Academy, a three-day conference occurring every other year that focuses solely on equipment and technology. In 2016 I was finally able to attend my first GEA to see what all the buzz was about. I have to tell you, I was blown away. We were lucky enough to be selected in the Hoodless Cooking class (each conference is broken up into categories voted on by need) and were able to conduct five 30-minute sessions over the three-day period. Each session is attended by about 20 decision makers. Not only are we allowed to educate about our equipment, we get to perform live demonstrations to show the "proof in the pudding," so to speak. Local food vendors donate food for demos and dealers, reps, manufacturers, and the Georgia School Nutrition Association work hand in hand to make the conference a unique experience. Honestly, for what we do, it is the best show I've ever participated in, and for the directors, it allows them to truly learn about technology that can advance their programs without any distractions.
Winston Foodservice was proud to participate in the 2018 Georgia Equipment Academy. We are debuted our new CVap RTV Retherm Oven in the Hoodless Cooking category. Hope you had the opportunity to participate!
It's really important for me to stay on top of the trends, standards, and challenges that affect school foodservice professionals, and the Georgia School Nutrition Association's Equipment Academy is one of my GO-TO sources!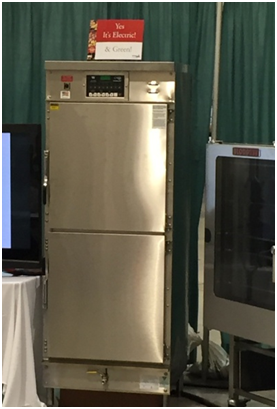 Unique to Georgia, the Equipment Academy takes place in Perry, Georgia, during non-NAFEM years. NAFEM is the National Association of Food Equipment Manufacturers, and their bi-annual event showcases foodservice equipment from more than 500 manufacturers.
The Equipment Academy concept is a bit like a scaled-downed NAFEM Show with a school foodservice focus. Five equipment dealers are chosen to represent learning classrooms, and Manufacturer's Representatives (similar to Brokers) are there to represent the foodservice factories that fit the criteria. School foodservice operators come from all over the state to see what innovations they might bring to their districts, from temperature management systems to fabulous ovens, like Winston's CAT522 shown here in the CITISCO Dealer booth.
The Academy offers two and a half days of intense learning about what might really make running school cafeteria programs more efficient. Here are Candice Sisson and Emily Hanlin, School Nutrition Directors in Fannin and Douglas Counties, respectively.
I love to take a selfie with people I've worked with for a while. This is James Camacho of Camacho and Associates. James' design consultancy builds awesome schools and does fabulous remodels. He came to the Equipment Academy specifically to teach a class on equipment specification for school kitchens. It was great to see and have him there. When we took this shot, we were enjoying Thursday evening's festivities which included great food and drinks prepared by us all.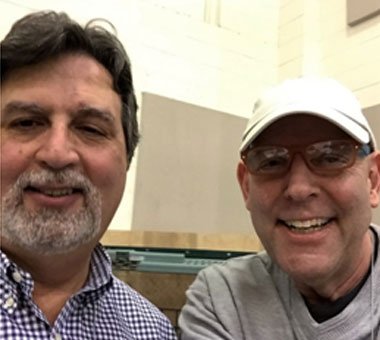 The Equipment Academy would be extremely beneficial for any of the State Nutrition Association!
For more information about the complete line of CVap products, please visit our website at winstonfoodservice.com.